Vexan Walleye Rods:
For years Tackle Industries has been known to make some of the highest quality and affordable lures on the market for freshwater and saltwater fishing. Finally, bass and walleye rods has been added for today's fisherman that matches our high quality and affordable prices. Throwing and trolling all sizes of bass & walleye lures requires top quality rods with a lot of backbone for both the cast and the hook-set. To meet the daunting task of tackling monster trophy largemouth bass and walleye, Tackle Industries has introduced a series of Vexan® bass & walleye fishing rods to handle all of your needs. Vexan walleye rods are not only for trophy fishing but can also be used for some of the toughest saltwater and freshwater game fish around. Our rods are made with a modified IM8+ blank with the trade secret TitanTM technology to give these rods super strength, flexibility, feel and years of durability. You will also see that micro guides are used instead of the standard cheaper guides. These guides provide smoother casts especially with larger bass lures, and cause less wear and tear on your fishing line, guides and your bass & walleye rods. High quality Fuji® components are used on all fishing rods. Fuji® reel seats provide a solid platform for anchoring your favorite reel. From the top quality super light alloy guides to the Fuji reel seats and on down to the revolutionary handle design, these are the real deal and not overpriced like the competition. Every rod comes with an unheard of industry No Questions Asked Lifetime warranty.
* All Vexan rods come with a free $6.99 rod sock.
Rods will ship direct from Tackle Industries, typcially in 1 to 2 business days from the time the order is placed, using Spee Dee Delivery in the midwest and Fed Ex in the rest of the country. Occasionally, they may also use the USPS for shipping.
*** We are now able to have TACKLE INDUSTRIES rods shipped to Canada via FedEx. Please know that additional shipping costs will apply. Contact us for more details.
The below is an old chart and prices have gone up $10 from what is listed.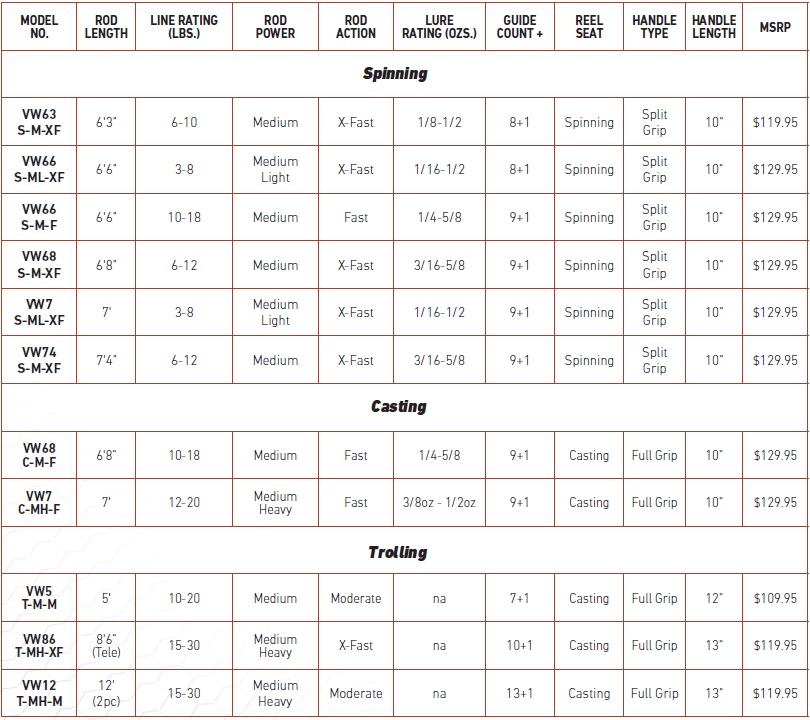 Tackle Industries Vexan Walleye Rods
Related Products
Is the color that you want out of stock?
Simply select the out of stock color that you want. The add to cart button will change to a notification button. Enter your info here and hit submit and everything else is automated from there. You will receive an email notification as soon as it's back in stock.
Free Shipping
on orders over $75
* Free shipping offer valid on orders shipped within the Continental United States
* Excludes nets and some rods (some areas)